Foresight Intelligence® Launches Fleet Intelligence™ Mobile App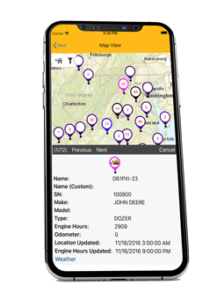 Foresight Intelligence, a data analytics software provider, has launched a mobile app for its newest product, Fleet Intelligence, a management product for heavy equipment fleets. The app was developed in response to a customer request and was brought to market in less than 30 days.
"This is an exciting enhancement for our Fleet Intelligence customers," said Dale Hanna, Foresight Intelligence, CEO. "Fleet managers are frequently out of the office and need access to the critical, real time information that Fleet Intelligence provides. The new app will allow them to manage their heavy equipment fleet seamlessly whether they are at their desk or on the go."
Features such as the easy-to-read map, the map layers, and machine details will all be available in the new mobile app. The map layers include the combined view, DTC (Diagnostic Trouble Code) alert view, inspection view, and more. App users can also access machine details such as the hours, odometer readings, machine name and the serial number. New features will be added to the app as customers provide feedback and make requests.
…
Click here to read the full release
To learn more, also visit Construction Equipment Guide.